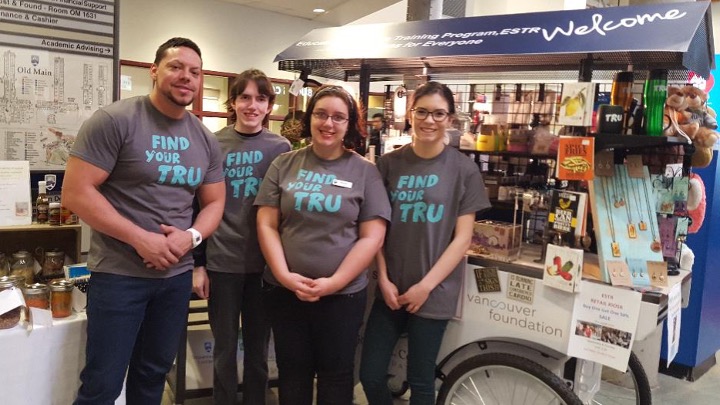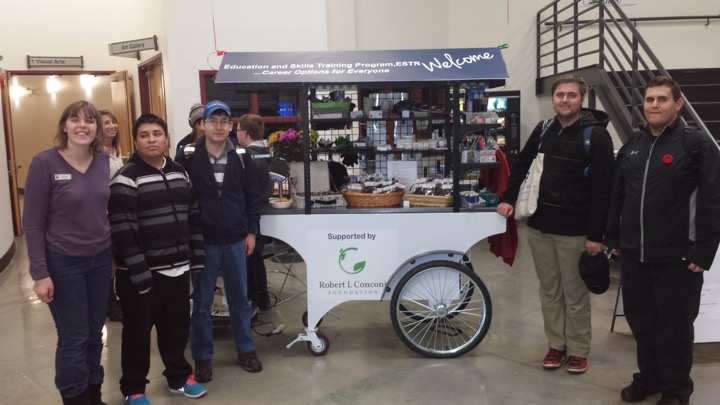 ESTR's Market began with a cart that students would transport and set up on Student Street in Old Main.  In 2014, initial funding for this kiosk project was awarded through a Social Innovation Grant from the Vancouver Foundation.  This grant was established to support people with diverse-abilities in education or community through a social justice or advocacy project.  This initiative provides experiential learning opportunities for ESTR students. At the same time, it promotes a social mission that reflects diversity, inclusion, innovation, sustainability, and community.
Later in 2017, support from the Faculty of Education and Social Work along with additional grants allowed the kiosk project to expand into a small pop-up market that operates out of an existing ESTR classroom and kitchen twice a week.
The ESTR students are involved in many aspects of the enterprise including product development, marketing, along with building relationships with the campus and community. These experiences help to build confidence for practicum, future employment, and in their professional and personal interactions with diverse groups of people. Students are engaged, proud, and take ownership of ESTR's Market.
During the growth and evolution of the social enterprise, from cart to storefront, there have been exciting opportunities for student learning and growth, along with the social aims of justice, equity, and inclusion.
Here's the link to Thompson Rivers University, if you want to know a little more about our program: